*update to the latest version to get access to this market widget
Tracking the market is a tiring and time-consuming exercise for traders and investors. The market tends to do 80% of the move in 20% of the time. Market tracking is definitely an area where a little BetterTrader computing power could help traders be more efficient.
Instead of you being glued to a screen dedicated to tracking price movements we offer our revolutionary MarketSense feature. It will track the markets and notify you whenever a significant move is happening.
You can choose in a matter of seconds exactly which market instruments you would like to track and precisely how much movement you consider significant. Now you can relax and spend your time wisely analyzing whether to buy, sell or hold.
What is considered a significant move? you will set it in a moment.
Spend more time in analysis and make better, more educated decisions buying, selling and retaining.
---
Here's How To Use MarketSense:
Step 1: Click on the symbol that resembles a pair of glasses on the instruments info card.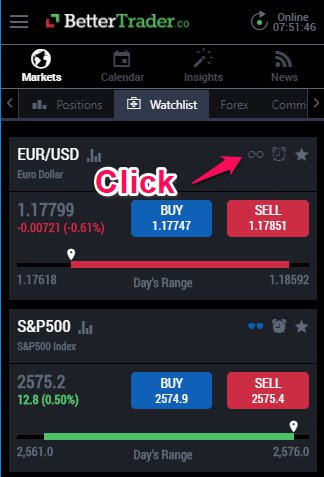 Step 2: Select the sensitivity (number of pips) and the direction (up or down) moved that you would like to be notified on.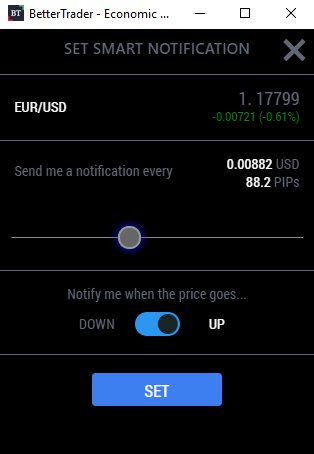 Step 3: We will take care of the rest - you will get a notification for every jump or drop based on the sensitivity and direction you just set.

Positive notification - For whenever the market instrument you chose is going up

Negative notification - For whenever the market instrument you chose is going down
Negative notification - For whenever the market instrument you chose is going down